Profile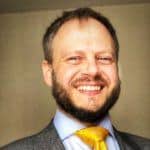 James Osborne
My Job Title: I'm currently working as a programmes manager on projects about sustainable aviation, space, and IT infrastructure

About Me:

I've always had a natural curiosity for science and engineering, and as children my brother and I loved taking things apart and making things explode. And, to be honest, as adults not a lot has changed!

My passion for engineering continued to develop through school. I really wanted to be a fighter pilot, unfortunately, I'm not co-ordinated enough so the RAF suggested engineering instead. So, I went to the University of Southampton to study Aeronautical and Astronautical Engineering. I really enjoyed the academic study, and when I was asked to stay on and do a PhD, I jumped at the chance.

My PhD required me to design, build, test and calibrate a small satellite experiment, which was launched into space in 2000. Unfortunately, the satellite failed soon after, so I didn't get any results from all my hard work. That's just what happens sometimes at the cutting edge of technology.

Today, I have over twenty years of space industry experience and have travelled worldwide visiting ground stations, testing equipment on cargo ships and presenting at international conferences. I'm now in a fantastic position with CFMS combining many of my skills through the delivery of the Digital Engineering and Technology Innovation programme.

My partner (an ex RAF Officer), our dog, 5 chickens and I recently relocated to Bristol. Moving house with a menagerie during lockdown was a challenge and a half but worth it. We now have TWO dogs and 7 chickens so something is going well!

You can talk to me on:

Anything about engineering!